Posts from —
February 2011
some of you may remember our 'searching for mayberry' post…and if you do, then you may remember that we ended the post with the promise of a big announcement. big news on our next great adventure.
we finally found a place to put roots for our gypsy souls.
yep, we just put the town population over 80. that's right, we moved. we loaded up the fam and headed to the wild blue yonder. to the country. to the wide open spaces of sprawling oak trees and rolling pastures. (well, we're not officially moved yet, BUT we're in the MIDST of moving…baby steps buy the land, baby steps move the fam, baby steps move the warehouse. it's all about baby steps at this point, y'all :))
round top, texas. home of the FaMOUS RouND ToP/WaRRENTON AntiqUES WEEK and birthplace of the JuNK GypSY JUNK-O-RaMA prom. it's where we've made some of the best junker friends in the world and it's where we decided we never wanted to be anything else other than a junk gypsy. (we'll tell you the story of our first show at warrenton soon)
it's home to the world-renowned FeSTIVAL HiLL, the LEGENDARY 4th of JuLY parade, a general store called the RounD ToP MERcANTiLE (which is, i might add, one of my most favorite places…it's where you can buy anything from organic spinach to hardware to deer corn…everyone knows your name AND you can buy it all on tab), and of course RoYERS ROUND top CAFE.
and here, yes here, is where we are going to build our FirST-EVER-long-time-comin JuNK GypSY store. we realize this seems like a slightly muy loco decision. to build a retail store in a town whose population sign reads 77. we've weighed our options, we've driven miles and miles across all of texas including every major city, we've looked near and far from here to there. we've spent hours (actually years) deliberating this decision…pondering the proper zip code for our flagship store.
as i type this blog, i glance out the window and see a beautiful country pond with peaceful ripples from the february breeze. it's recently been inhabited by several ducks that are effortlessly cruisin their temporary home. the pond is shaded by evergreen cedars and spanish moss-filled live oaks. and past the pond, i see longhorns grazing in the pasture and horses kickin' around in the cool morning. other than the rattle of the keyboard… i can hear the wind. and the birds. and that's all.
alas, it's because of this and so much more, that we've concluded, without doubt, that the country is the ONLY place for the first-ever, long-time-comin' JuNK GypSY store.
where there are more trees than parking spaces.
where you can see the stars at night.
where things are still done on a handshake.
where the green grass grows.
we've hugged the trees (there's over 100 on the 10 acres we bought for JG)…
we've planted bluebonnets…
well, kind of…
we've moved in portable buildings to the construction site to temporarily office out of…this one came straight from AUSTIN CITY LIMITS to the new JuNK GypSY world headquarters in RounD ToP, texas. amie, mom, & i felt like rockstars…the keys were labeled "artist 1″ and "artist 2″. :)
part of the JG crew is moving to MaYBERRY too. archie (our resident super-model) & crazy legs will soon be round top residents. we like to think the business that moves to the country together, stays together. we'll be moving the shipping warehouse soon into the one below…fannnnncy!
we've completed phase 1 of operation: old macGYPSY farm…
we've flagged the future site of our store…
and we hope to break ground soon…stay tuned for the play-by-play!
 tomorrow, we start PhAsE II…we've rescued an old farmhouse that we're movin on to the property…it's the cutest little thang this side o' the mississippi!
as they say, you can take the girl outta the country but you can't take the country outta the girl…and we've decided, you can take the girl outta the country but she'll find her way back as fast as she can. 
happy trails from the gravel road….
February 15, 2011 83 Comments
it's around this time of year, just when we puny texans are gettin' really stinkin' sick & tired of the entire 2 weeks of cold weather we've had, just when we think we can't take anymore of the arctic blast, just when we think we might just lay down and DIE if the weather gets below 50 one more day….yep, it's about this time of year, every year, when i start gettin' downright giddy about WaRRENtoN ANtiQUES WEEK.  
we've said it before, and we'll say it again. it's a soul vacation…it's spring time in texas. it's eating royers food under the big tent and twinkle lights at zapp hall. it's bluebonnets in the cowpastures. it's dancin under the stars at JuNK-O-RaMA prom. it's miles and miles and miles of junk as far as you can see. it's the mothership – the mecca of fleamarkets. it's being disconnected from your email, your work, your cell phone. it's wide open spaces & pure country air …. and, we believe, a little thing called junk therapy.  
and did we mention gypsies love vintage circus paraphernalia too?  
we thought y'all might wanna take a gander at our full pitch reel….it's a 10-minute pocketful o' sunshine that we hope you'll love.
let us know what ya think! :)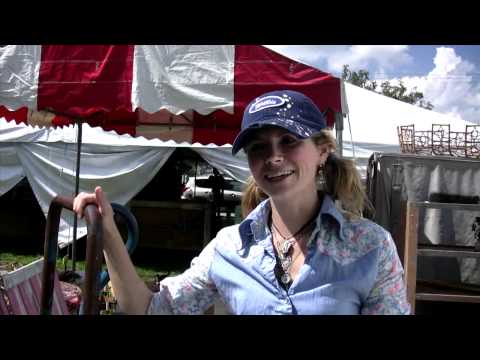 y'all get ready! blue skies are headed our way! is it march yet?
ANtiQUES WEEK SpRING 2011 show dates:
FriDAY, MarCH 25-SaturDAY, ApriL 2.
JuNK-O-RaMA ProM: ThurSDAY, MarCH 31st @ the gypsy tent!
February 4, 2011 31 Comments